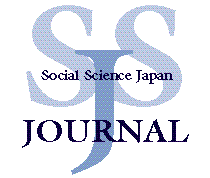 An International Journal of Social Science Research on Japan
Published jointly with Oxford University Press.
| | |
| --- | --- |
| ISSN: 1369-1465 | |
Please note: much of the content of this page is duplicated on the OUP website. We are currently working with OUP to coordinate online information for Social Science Japan Journal. However, only the OUP site carries the all-important subscription information, so please pay them a visit.